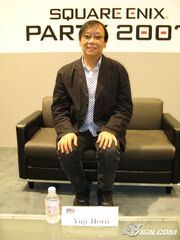 Yūji Horii (堀井 雄二, Horii Yūji?) (born January 6, 1954 in Awaji Island, Japan) is a Japanese video game designer and scenario writer best known as the creator of the Dragon Quest series. He has been said to have created the blueprint for the console role-playing game by Nintendo Power.
Biography
Edit
Horii graduado do Departamento de Literatura da Universidade de Waseda. Ele também trabalhou Como hum escritor freelance Revistas Pará, Jornais e. ELE colocou em hum concurso patrocinado Enix Programação de Jogos com hum Jogo de Computador de Tênis, motivando-o a se tornar desenhistaángas de hum de videogames.
Horii currently heads his own production company, Armor Project, a company that has an exclusive production contract with Square Enix, a contract established with Enix before the company merged with Square. He is currently working on Dragon Quest IX for the Nintendo DS, the first game in the main series released primarily for a handheld.
Horii was a supervisor for the original version of Chrono Trigger. Many of the game developers appear in a special ending of Chrono Trigger. Each one is outfitted with their own dialogue, location, and sprite.
{{{4}}}
{{{6}}}
{{{8}}}
{{{10}}}
{{{12}}}
{{{14}}}
{{{16}}}
{{{18}}}
{{{20}}}
{{{22}}}
{{{24}}}
{{{26}}}
{{{28}}}
{{{30}}}
{{{32}}}
{{{34}}}
{{{36}}}
{{{38}}}
{{{40}}}
{{{42}}}
{{{44}}}
{{{46}}}
{{{48}}}
{{{50}}}
{{{52}}}
{{{54}}}
{{{56}}}
{{{58}}}
{{{60}}}
{{{62}}}
{{{64}}}
{{{66}}}
{{{68}}}
{{{70}}}
{{{72}}}
{{{74}}}
{{{76}}}
{{{78}}}
{{{80}}}
{{{82}}}
{{{84}}}
{{{86}}}
{{{88}}}
{{{90}}}
{{{92}}}
{{{94}}}
{{{96}}}
{{{98}}}
{{{100}}}
{{{102}}}
{{{104}}}
{{{106}}}
{{{108}}}
{{{110}}}
{{{112}}}
{{{114}}}
{{{116}}}
{{{118}}}
{{{120}}}
{{{122}}}
{{{124}}}
{{{126}}}
{{{128}}}
{{{130}}}
{{{132}}}
{{{134}}}
{{{136}}}
{{{138}}}
{{{140}}}
{{{142}}}
{{{144}}}
{{{146}}}
{{{148}}}
{{{150}}}
{{{152}}}
{{{154}}}
{{{156}}}
{{{158}}}
{{{160}}}
{{{162}}}
{{{164}}}
{{{166}}}
{{{168}}}
{{{170}}}
{{{172}}}
{{{174}}}
{{{176}}}
{{{178}}}
{{{180}}}
{{{182}}}
{{{184}}}
{{{186}}}
{{{188}}}
{{{190}}}
{{{192}}}
{{{194}}}
{{{196}}}
{{{198}}}
{{{200}}}
{{{202}}}
{{{204}}}
{{{206}}}
{{{208}}}
{{{210}}}
{{{212}}}
{{{214}}}
{{{216}}}
{{{218}}}
{{{220}}}
{{{222}}}
{{{224}}}
{{{226}}}
{{{228}}}
{{{230}}}
{{{232}}}
{{{234}}}
{{{236}}}
{{{238}}}
{{{240}}}