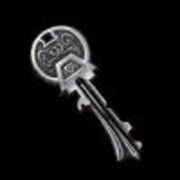 The Parlor Key is used to gain entry into the Parlor in the Viper Manor basement.
Found at: Viper Manor (Another World).
Use: To unlock the Parlor room.
Aquired: In order to receive this item, you must wait until the Dragoons have left for the Fort. After going down into the prison area of the manor, (where you had first falled through the floor into the cage), go down to where the lazy guard was standing and examine the bucket to loot the Parlor Key.
Ad blocker interference detected!
Wikia is a free-to-use site that makes money from advertising. We have a modified experience for viewers using ad blockers

Wikia is not accessible if you've made further modifications. Remove the custom ad blocker rule(s) and the page will load as expected.