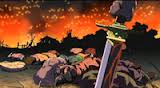 guardia is destroyed
All will be devoured and destroyed in the vacuum of time!!

This article is currently nominated for deletion.
no information...is this some kind of joke?
If you wish, please voice your opinion on its talk page.
You may continue to edit this page, however, do not remove this notice
until the discussion is closed.