This page contains in-universe or out-of-universe information within the pseudo-canon of
Chrono Trigger: Crimson Echoes
.
Toma the 52nd
Home Time
2305 AD
Age
Unknown
Weapon Type
N/A
Magic Element
N/A
Family
Toma ancestor;
Gender
Male
Friends / Colleagues
Crono,Marle,Lucca
Toma LII is a character in Chrono Trigger: Crimson Echoes.
Appearance
Edit
He is exactly identical to his ancestors.
Biography
Edit
 Toma the 52nd,or Toma LII,is a minor NPC that appears on the Coliseum.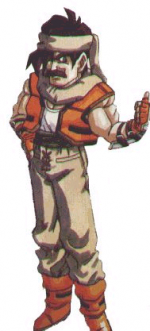 References
Edit