This page contains in-universe or out-of-universe information within the pseudo-canon of
Chrono Trigger: Crimson Echoes
.
Kino
Home Time
64999995 BC
Age
Possibly 25
Weapon Type
N/A
Magic Element
N/A
Family
Ayla (wife);
Noah(son);
Lea(daughter)
Gender
Male
Kino is a character in Chrono Trigger: Crimson Echoes.
Biography
Edit
Kino's first appearence on Crimson Echoes is in a cutscene where he protects Ayla of monsters.

On the Player's first visit to 64999995 BC,a villager remarks that Kino was killed on Dactyl's Nest trying to protect Ayla,what is depicted on a cutscene,but he can be seen alive on Ayla's Tent.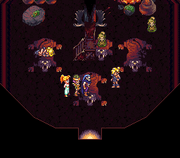 Ad blocker interference detected!
Wikia is a free-to-use site that makes money from advertising. We have a modified experience for viewers using ad blockers

Wikia is not accessible if you've made further modifications. Remove the custom ad blocker rule(s) and the page will load as expected.