This page contains in-universe or out-of-universe information within the pseudo-canon of
Chrono Trigger: Crimson Echoes
.
King Zeal


Artwork of King Zeal made by Chrono99.
Home Time
11995 B.C.
Home Area
Zeal
Age
Unknown
Family
Queen Zeal:wife
Magus :son


Schala:daughter

Gender
Male
Friends / Colleagues
Lavos (hates)
King Zeal is a character in Chrono Trigger: Crimson Echoes.
Appearance
Edit
King Zeal is blue haired,and have pale skin and pointy ears,as Magus,his son.
Biography
Edit
King Zeal appears on the Zeal's ruins,next to the Mammon Machine.Magus,stuck at the Dalton's Dungeon escapes and go to Zeal's ruins to save Schala,and confronts King Zeal,but Magus is beaten,and King Zeal steals Masamune.It made serious alterations at the timeline including the creation of the Vanguard,and then the Mystic War ended only in 640 AD.
Wanting to revive his kingdom,he tried to defeat Lavos with the Atash Kedah,obtaining the Dragon Tooth.But he altered the entire timeline.With it,the temperature never become cold,and the Reptites were revived,creating the reptite 1 AD timeline,where men still fighting with Reptites,making Cedric, Marle and every person to die,but Crono,Glenn and Magus stop it.During the Guardia's fall,he appears and murders King Guardia XXXIII,then disappears.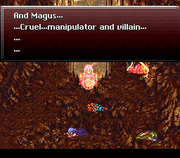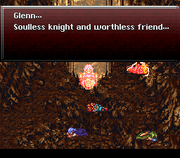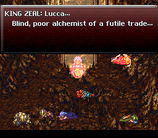 Ad blocker interference detected!
Wikia is a free-to-use site that makes money from advertising. We have a modified experience for viewers using ad blockers

Wikia is not accessible if you've made further modifications. Remove the custom ad blocker rule(s) and the page will load as expected.